Numbers is the second episode of the Let's Learn English with the Teletubbies DVD series. This episode mainly talks about the numbers 1-20.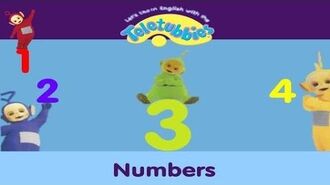 Segments
The Extra Piece of Tubby Toast (From Yellow Cow)
Numbers
Cartoon: Counting Cars Part 1 (#1-10)
Po Waters 9 Pretty Flowers With the Watering Can (From Numbers - 9)
Cartoon #2: Counting Cars Part 2 (#11-20) (Counting from 1-20)
Tubby Bye-Bye
Ad blocker interference detected!
Wikia is a free-to-use site that makes money from advertising. We have a modified experience for viewers using ad blockers

Wikia is not accessible if you've made further modifications. Remove the custom ad blocker rule(s) and the page will load as expected.