New Toy

Number

381

Air Date

18 January 2016

Director

Richard Bradley

Previous

Next
The children in Tummy Tales play a game of pass the parcel and win a suprise toy, while the Dup Dup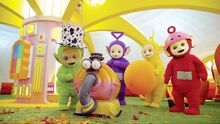 delivers toys for the Teletubbies to play with. Even Noo-Noo enjoys a new treat!
Trivia
This is the sixteenth episode of the new series
Dipsy was the missing teletubby
Laa Laa was the boo shouter but Po said goodbye for a final time.
This episode aired in the US on June 13, 2016.