New Toy

Number

381

Air Date

18 January 2016

Director

Richard Bradley

Previous

Next
The children in Tummy Tales play a game of pass the parcel and win a surprise toy, while the Dup Dup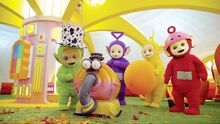 delivers the Teletubbies' favourite things for the them to play with. Even Noo-Noo enjoys a big pile of leaves to tidy up!
Trivia
This is the sixteenth episode of the new series
Dipsy was the missing teletubby
Laa Laa was the boo shouter but Po said goodbye for a final time.
This episode aired in the US on June 13, 2016.