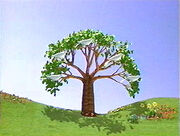 Inside the Tubbytronic superdome, Tinky Winky and Dipsy are holding hands and bouncing up and down before the Magic Windmill spins and the Teletubbies watch a funny lady tells a story of the naughty horse returns. In Teletubbyland, Po is playing with Laa-Laa's ball and doesn't want to give it back until she sees her scooter. The Teletubbies watch the Magic Tree with before the Sun Baby giggles for Tubby Bye-Bye.
Featuring: Tamzin Griffin with The Children of Chater Infants School, Watford
Trivia
Po was the boo shouter.
Tinky-Winky was the missing teletubby.
This is the Only episode where dipsy is chosen for a funny lady TV transmission.
Ad blocker interference detected!
Wikia is a free-to-use site that makes money from advertising. We have a modified experience for viewers using ad blockers

Wikia is not accessible if you've made further modifications. Remove the custom ad blocker rule(s) and the page will load as expected.