In Teletubbyland, the Teletubbies were dancing, then everything stops when the Magic Windmill started to spin so they run off to watch two boys play with their Mum's keyboard. Inside the Superdome, Dipsy decides to make some adjustments. Then the Magic Windmill started to spin, so he rushed outside to get the others and see the magical house with 4 windows appear in the Teletubbyland and appears to be a shadow behind the window and appears to be a puppet man singing. And the Magic Windmill stops spinning for Tubby Bye-Bye.
Featuring: The Word Girl with Greg & Mathew Tierney
Trivia
This is the first episode where the Puppet sings on the Top Right Window.
Dipsy was the 'boo' shouter.
Tinky Winky was the missing teletubby.
Watch Episode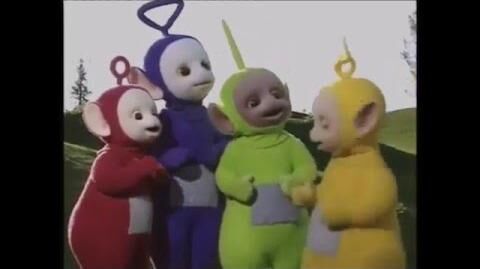 Ad blocker interference detected!
Wikia is a free-to-use site that makes money from advertising. We have a modified experience for viewers using ad blockers

Wikia is not accessible if you've made further modifications. Remove the custom ad blocker rule(s) and the page will load as expected.