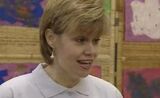 The Teletubbies have fun hiding and running around the hills. Then they watch some children doing music with Debbie. In Teletubyland, Tinky Winky and Po are sitting outside on the hill, and they play 'Two Little Teletubbies'. Tinky Winky runs away first, then Po runs away next. Tinky Winky comes back. Po comes back. They decide to play again and again. Then it's time for Tubby Bye-Bye.
Featuring: Debbie Ivens and The Crescendo Kids
Watch Episode
Trivia
The opening segment for this episode is a longer version of the opening segment from Bubble Pictures.
Dipsy is the missing teletubby.
Po was the boo shouter.