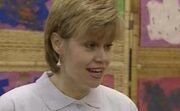 Tinky Winky, Dipsy and Laa-Laa run up and down the hills to say 'Eh-Oh!', just as Po pops up and says 'Boo! Eh-Oh!'. Then the Magic Windmill starts to spin as they watch some children joining in the music with Debbie. Laa-Laa makes up a song which makes the other Teletubbies run away. Then they do the Tip Toe Dance before Tubby Bye-Bye.
Featuring: Debbie Ivens, The Crescendo Kids
Trivia
This is the first appearance of Debbie.
This is the first episode with the shortened version of the Tip Toe Dance.
This episode re-uses the opening segment from Photo Faces. The only differences are the opening shot and the drum beat.
Dipsy was the boo shouter.
Tinky Winky is the missing teletubby.
The German version of this episode is called Singen mit Robert: Zappelig and has a different Windmill video.
Watch