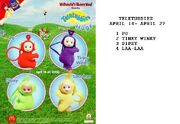 McDonalds Teletubbies
are a set of McDonald's Happy Meal toys which were released in April 2000. It features key chains of all four Teletubbies. there are also Happy meal Boxes on ebay, They show the Characters with an activity.
Ad blocker interference detected!
Wikia is a free-to-use site that makes money from advertising. We have a modified experience for viewers using ad blockers

Wikia is not accessible if you've made further modifications. Remove the custom ad blocker rule(s) and the page will load as expected.