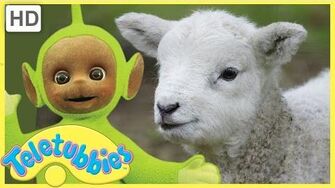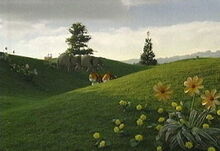 The Teletubbies walk quickly across Teletubbyland before the Magic Windmill spins and children act out the nursery rhyme Mary Had a Little Lamb. Po follows Tinky Winky all over Teletubbyland, The Magic Windmill spins again and the Teletubbies see the Animal Parade (with elephant trumpet sound) before the Magic Windmill stops spinning and it is time for Tubby Bye Bye
Featuring: The Children of The Heidi Rhodes School of Dance
Plot (US Version)
Inside the Tubbytronic Superdome, The Teletubbies giggle as they hold hands walking sideways together. After that, the Magic Windmill spins outside and they run to watch some children act out the nursery rhyme Mary Had a Little Lamb. Then, the Teletubbies eat their Tubby Toast, and then the voice trumpet rises up and brings them a message singing Humpty Dumpty. After they fell down, the Teletubbies do the Falling Down Dance by the windmill. After the dance, The Magic Windmill begins to spin as the Teletubbies run to see Little Bo Peep find her sheep. After she found her sheep, The Magic Windmill stops spinning and Tubby Bye-Bye sequence takes place.
Trivia
Po was the boo shouter in both the UK and US Version.
The UK Version has the Animal Parade (with elephant trumpet sound) but no dance. The US Version has Little Bo Peep, The Falling Down Dance was added before Little Bo Peep.
Ad blocker interference detected!
Wikia is a free-to-use site that makes money from advertising. We have a modified experience for viewers using ad blockers

Wikia is not accessible if you've made further modifications. Remove the custom ad blocker rule(s) and the page will load as expected.