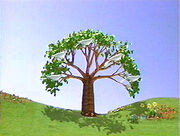 Inside the house, Po listens to a voice trumpet recite the nursery rhyme 'Pat-a-Cake'. Then Laa-Laa hears the rhyme and she and Po play Pat-a-Cake together. Then 
Tinky Winky
and
Dipsy
 arrive and decide to join in but they are interrupted by the windmill. The
Teletubbies
watch Mark and Zoe decorate a cake with butter icing, chocolate and strawberries. Back in Teletubbyland, it's time for a song all about Dipsy's hat. 'Dipsy's hat, Dipsy's hat, Fancy that, It's Dipsy's Hat'. Dipsy goes out for a walk with his hat. While he is out walking, his hat flies off his head and decorations appear and disappear from his hat. Then after his hat blows away in the wind, he walks all the way home. Then all the Teletubbies run outside and see the windmill spinning. They watch the Magic Tree before Tubby Bye-Bye.
Featuring: Marc Connor and Zoe Williams
Watch
Trivia
The Pat-a-Cake segment was featured in the VHS Nursery Rhymes. However, the ending part where Tinky Winky and Dipsy appear is replaced with a shot of the house.
The Song all about Dipsy's hat segment was featured in the VHS Favourite Things.
Dipsy was the boo shouter.
Tinky Winky was the missing teletubby.