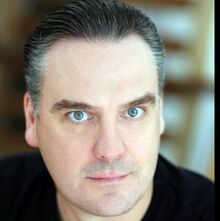 Mark Heenehan is an American-British actor, singer and theatre performer. He is known for voicing Tinky Winky. Heenehan only dubbed Tinky Winky's voice in the first 70 episodes where Dave Thompson performed in the suit until Simon Shelton took over the role. Mark Heenehan gave Tinky Winky a very masculine and jolly voice. Since Heenehan didn't perform in the suit, in the credits he is credited as an additional voice.
Trivia
Mark Heenehan voiced Tom in the American dub of Tots TV ( When he laughs both characters sound very similar )
Ad blocker interference detected!
Wikia is a free-to-use site that makes money from advertising. We have a modified experience for viewers using ad blockers

Wikia is not accessible if you've made further modifications. Remove the custom ad blocker rule(s) and the page will load as expected.