The Teletubbies watch some children making Christmas cards. A Christmas present for Laa-Laa has lovely decorations. Laa-Laa is very pleased with her present. She decides to show Tinky Winky, Dipsy and Po when they get inside the house and see her. Then the Noo-Noo tidies them up and wants to decorate the house, but the Teletubbies scold him saying "Naughty Noo-Noo". The decorations tickles the Noo-Noo's inside part, so he blows them out, firing up and acting like a jet engine to decorate Home Hill just like he wanted to! The Teletubbies think it was so festive and say "Clever Noo-Noo".
Featuring: Naomi Adeniji, Desmond, Ella & Lilly Ainsworth and Saalim Koomar
Watch Episode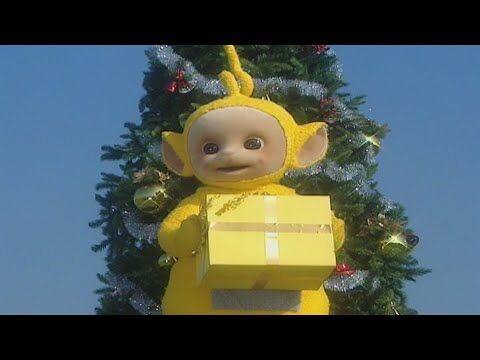 Trivia
Po was the boo shouter
Dipsy was the missing teletubby
Ad blocker interference detected!
Wikia is a free-to-use site that makes money from advertising. We have a modified experience for viewers using ad blockers

Wikia is not accessible if you've made further modifications. Remove the custom ad blocker rule(s) and the page will load as expected.