Living in Flats

Number

120

Air Date

2 January 1998

Director

Nigel P Harris

Previous

Next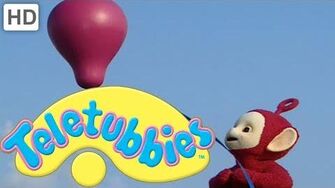 Laa-Laa
 dances with her ball and the
Teletubbies
watch a boy describing why he likes to live in flats. A balloon appears in
Teletubbyland
and the Teletubbies follow it around until
Po
catches it and they all take turns to hold it. After they have their turns, all the Teletubbies wanted to hold the balloon, but without any success, they accidentally let go of it and it flies away into the sky to disappear.
Featuring: Alan Henderson, Sharon and Ramone Moody
Plot (US Version)
The Teletubbies slide down the slide to have some Tubby Toast. After that, the Magic Windmill starts spinning and they run outside to watch  a boy describing why he likes to live in apartments. A balloon appears in Teletubbyland and the Teletubbies follow it around and they tried to catch hold it, but it keeps flying faster no matter how hard they tried. They keep following the balloon until flies away. Then, the Magic Windmill starts spinning and the Teletubbies run off to watch The Magic House with the Singing Man singing in the Top Right Window. Afterwards, the Magic Windmill stops spinning and the Teletubbies do The Falling Down Dance before The Magic Windmill stops spinning again (this time, the camera zooms to the close up of The Magic Windmill) for Tubby Bye-Bye.
Trivia
This is the first episode where the Balloon appears, the other episode is Tulips.
Tinky Winky was the boo shouter in UK Version. Dipsy was the boo shouter in US Version.
In the USA, this episode is renamed "Living in Apartaments" just to not create confusion with words.
Laa Laa was the missing teletubby in both versions.
The US version has the Magic House (Top Right) and the Falling Down Dance.
This is the last episode copyrighted in 1997.