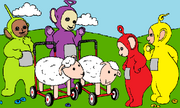 The 'Little Lamb'
is a lost and found lamb who is perched on a red contraption with wheels (kind of like a leg brace with wheels). The Little Lamb is featured on the Teletubbies episode "
Making Fantastic Animals
".
Trivia
Little Lamb is featured on Teletubbies: Favourite Games and Teletubbies: My First App.
Little Lamb was featured on the Teletubbies VHS/DVD "Animals Big and Small" (U.S Version "Baby Animals").
Little Lamb is the most famous out of all the items/animals that have appeared in the segment "something appeared from far away".
Little Lamb is friends with another lamb and all The Teletubbies.
There's a storybook based on this segment called Little Lamb
Ad blocker interference detected!
Wikia is a free-to-use site that makes money from advertising. We have a modified experience for viewers using ad blockers

Wikia is not accessible if you've made further modifications. Remove the custom ad blocker rule(s) and the page will load as expected.