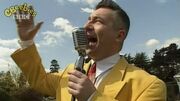 King Pleasure and The Biscuit Boys are a band shown on Teletubbies. They love to play Nursery Rhymes for children and for the Teletubbies. They are in episodes that usually are titled with a Nursery Rhyme. They make five episode appearances.
Episode Appearances
The Grand Old Duke of York (first appearance)
See-Saw
Humpty Dumpty
Hey Diddle Diddle
Hickory Dickory Dock (last appearance)
Nursery Rhymes (The Grand Old Duke of York and Hickory Dickory Dock)
Bedtime (Hey Diddle Diddle)
Gallery
Trivia
King Pleasure and The Biscuit Boys are also shown performing in concerts off of Teletubbies.
King Pleasure and The Biscuit Boys along with the Funny Lady are the best known Teletubbies TV Event .
When King Pleasure and The Biscuit Boys sing a Nursery Rhyme, they come up with original lyrics to avoid repeating the same verse over and over again.
The first four episodes featuring King Pleasure and the Biscuit Boys featured the longest running Biscuit Boy, Chris Shirley, and previous Biscuit Boys, Al Gare and Jonny Boston. In addition, their black and white spectator shoes were shown.
Their first four appearances were filmed at the Birmingham Botanical Gardens, their last appearance was filmed at the Chuckery School in Walsall, England.
Previous Biscuit Boys Paul Allin, Paul Martin, and Dean Beresford (who left the band between 1996 and 2001) were the only three Biscuit Boys not seen in their appearances in the television series, and the only Biscuit Boy who appeared in the episodes was previous Biscuit Boy Danny McCormack. Their musical instruments, the trumpet, the baritone and alto saxophones, and the drums and King Pleasure's tenor saxophone were also not seen.
King Pleasure and the Biscuit Boys featuring the current Biscuit Boys John Battrum, Craig Sunderland, Matt Foundling, and Gary Barber (who joined the band between 1999 and 2008) performed at the Birmingham Botanical Gardens with the remaining two founding members on July 15, 2012 as a part of the 2012 Brum Jazz Festival. A series of photographs as well as two short videos are shown online.
At the time of their appearances, the band was consisted of seven Biscuit Boys, being an eight member lineup. Now, the band is consisted of five Biscuit Boys, being a six member lineup. Also, on their first four appearances, four of the seven Biscuit Boys were seen, on their last appearance, only one was seen.
King Pleasure and the Biscuit Boys have also performed their nursery rhymes off of the TV series. In addition, they have made appearances in other television shows.
Ad blocker interference detected!
Wikia is a free-to-use site that makes money from advertising. We have a modified experience for viewers using ad blockers

Wikia is not accessible if you've made further modifications. Remove the custom ad blocker rule(s) and the page will load as expected.