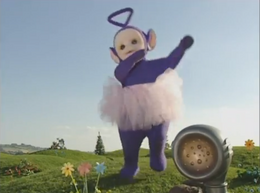 Jumping is a segment featured in Teletubbies. It appeared in the episode of the same name and in the VHS Dance with the Teletubbies.
Plot
Dipsy is out for a walk when he notices a beautiful flower. He kneels down and admires it. This makes Dipsy feel jumpy. He stands up, and begins to jump continuously.
Laa-Laa is standing at an unknown location when she says "Eh-Oh" to the audience. Then at a sudden moment, when Laa-Laa's ball appears, she catches her ball while jumping.
Po says "Eh-Oh" to the audience and looks at her scooter which is far away. She begins jumping and continuously does it until she reaches her scooter. She reaches her scooter and rides off.
Tinky-Winky is wearing the skirt when he says, "Tinky Winky jump for fun!" (that means the Narrator says but Tinky Winky jumped for fun) and a voice trumpet appears and begins playing a piano concerto. Tinky-Winky bows before the music plays, and begins jumping and dancing. The Baby Sun giggles. Tinky-Winky bows and moves on to his next destination, which is beside a large tree. The voice trumpet begins playing another piece of piano concerto music. Tinky-Winky bows and begins jumping once again, while finishing with another bow. The flowers admire Tinky-Winky's jumping, and the Baby Sun giggles. At the Tubbytronic Superdome, Tinky-Winky emerges in the superdome's front doors and bows two times. Yet another piano concerto music plays and Tinky-Winky jumps, dances, and spins like crazy, until he falls down feeling dizzy and ending the segment with his final words, "Very tired..." (that means the Narrator says that after all that jumping, Tinky Winky was very tired). The Magic Windmill spins after this for the Magical Event.
Alternate Ending
In the Dance With the Teletubbies VHS and the US version of Jumping, the TV Receiver Sequence begins after Tinky Winky goes tired.