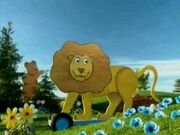 Irish Dancing

Number

127

Air Date

13 January 1998

Director

Vic Finch

Previous

Next
In the Home Hill, the Teletubbies are eating Tubby Toast. It's time for them to do their exercises. A voice trumpet rises and gives them some exericses to do. When they are tired out, they shout "Run away, run away!" before they rush outside to watch a video about a little girl named Becky doing Irish Dancing.
Later, the Teletubbies go up to the path to do the Jumping Dance. Then The Magic Windmill starts to spin and the Teletubbies rush off to see the Magical Event of the Bear and Lion playing their hide and seek game in Teletubbyland. The Magic Windmill stops spinning. The "Tubby Bye-Bye" sequence then takes place and The Baby Sun sets in the sky.
Featuring: The Dancers of Bennett's End Community Centre, Hemel Hempstead
Watch Episode
Trivia
This is the first time the Teletubbies do the Jumping Dance (which is re-shot version on the path near the windmill) in an episode that includes The Lion and The Bear. The other two episodes are Long Horns and Feeding Baby Penguins.
This episode is featured on the Teletubbies DVD "Happy Birthday".
After the Windmill stops spinning, a fade effect is not used between the scene of the Windmill and the Voice Trumpet rising. This also occurs in Snowy Story, the Chinese versions of Dragonflies and Asian Storyteller (The Fox), the US version of Colours-Blue and Colours - Brown.
Laa Laa was the 'boo' shouter in UK Version. Po was the 'boo' shouter in US Version.
Dipsy was the missing teletubby in UK Version. Tinky Winky was the missing teletubby in US Version.
The opening music before the Jumping Dance is two keys lower (D major). This is also in Dirty Dog, Ice Cream Sundae and Let's Dance.