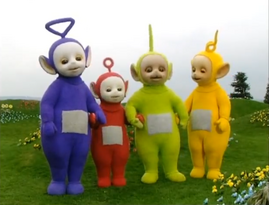 Ice Skating

Number

67

Air Date

No information

Directors

Vic Finch

David G Hillier

Previous

Next
Po
spills her
Tubby Custard
on the floor and
Tinky-Winky
slips on it and slides around the house and up the slide, while the
Noo Noo
has to tidy up the mess, Tinky Winky comes back inside and his Tubby Apron/Bib is very messy, when he joins the other
Teletubbies
, he realizes there is no Tubby Custard in his bowl, so
Dipsy
kindly gives Tinky Winky some of his. The Teletubbies watch some children ice-skating. Tinky Winky and Po decide to hold hands, then Dipsy and
Laa-Laa
join in and then the
Magic Windmill
prepares to stop spinning, they said "Uh-Oh!", the Magic Windmill stops spinning and it is time for Tubby Bye Bye.
Plot (US Version)
Po spills her Tubby Custard on the floor and Tinky-Winky slips on it and slides around the house and up the slide, while the Noo Noo has to tidy up the mess, Tinky Winky comes back inside and his Tubby Apron/Bib is very messy, when he joins the other Teletubbies, he realizes there is no Tubby Custard in his bowl, so Dipsy kindly gives Tinky Winky some of his. The Teletubbies watch some children ice-skating. Tinky Winky and Po decide to hold hands, then Dipsy and Laa-Laa join in and then the Teletubbies do the Tip Toe Dance (extended version) and it is time for Tubby Bye-Bye.
Featuring: Adele Penny with Bradley Fernandes, Laura Highcock, Amy Morin, Vivian Parnell-Murphy, Shona Patel-Mehta, Ian Paterson and Nathalie Shepherd
Trivia
This episode is featured on the Teletubbies DVD "Autumn Fun".
This episode is features on the Teletubbies VHS and DVD All Fall Down!.
The US Version has The Tip Toe Dance (extended version).
This is one of the few times when the Teletubbies groan and grumble when the Windmill spins.
Laa Laa was the 'boo' shouter in both versions.
Dipsy was the missing teletubby in both versions.
The Stop Spinning tune is heard twice. It was used in the Normal animation and the Stop Spinning animation
Watch
Ad blocker interference detected!
Wikia is a free-to-use site that makes money from advertising. We have a modified experience for viewers using ad blockers

Wikia is not accessible if you've made further modifications. Remove the custom ad blocker rule(s) and the page will load as expected.