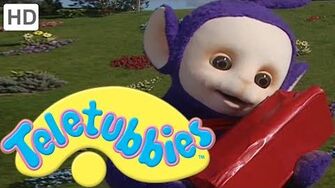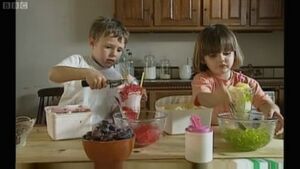 A Magic Watering Can appears from Far Away, Po water's some flowers that grow enormous. Po decides to water the other Teletubbies Favourite Things and they become enormous. Laa Laa loves her enormous Ball, Tinky Winky loves his enormous Bag and Dipsy loves his enormous Hat. The Teletubbies watch two children making Ice Cream Sundaes.The Teletubbies do the Splashing Dance before Tubby Bye Bye.
Featuring: Alessandro Rasulo and Rebecca Thomas
Plot (US Version)
The Teletubbies dance a Splashing Dance outside the Home Hill, Afterwards, the windmill starts spinning as they go watch two children making Ice Cream Sundaes. Meanwhile, the flag appears in Teletubbyland, Po marches with the flag, Tinky Winky joins in, they marched over the hills, between the trees, past Dipsy and Laa Laa, so they decided to join the other duo, Tinky Winky and Po marched with a flag to the Home Hill, they fell down, they try again. Dipsy and Laa Laa couldn't know where Tinky Winky and Po have gone. The flag pops up the hole where the slide is. Tinky Winky and Po finally come out of their house, Dipsy and Laa Laa found out that Tinky Winky and Po has put a flag on top of the Home Hill. It suddenly disappears now. Then the Teletubbies hug each other when the windmill started to spin as they go to the Magic House with the Singing Man singing on the Bottom Left Window, After is disappears, the windmill stops spinning and Tubby Bye Bye sequence takes place.
Trivia
The US Version has the Magic House with Singing Man (Bottom Left Window) Sketch, the Magic Flag was added before it. The UK Version has no Magical Events, it has The Magic Watering Can on the first beginning of the UK episode though.
Laa Laa is the boo shouter in UK Version and US Version.
In the US Version, A fade effect is used after the Magic House, The fade effect transitions to the Magic Windmill about to Stop Spinning, this also happens in Deliliah Packing, Emily and the Trap and Running (US Version only).