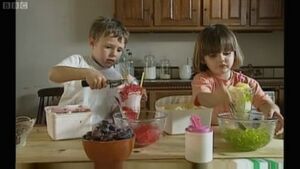 A Magic Watering Can appears from far away. Po waters some flowers that grow enormous. Po decides to water the other Teletubbies' favourite things and they become enormous. Laa Laa loves her enormous ball, Tinky Winky loves his enormous bag and Dipsy loves his enormous hat. The Teletubbies watch two children making Ice Cream Sundaes. The Teletubbies do the Splashing Dance before Tubby Bye Bye.
Featuring: Alessandro Rasulo and Rebecca Thomas
Trivia
The Po's Magic Watering Can segment was featured in the rare VHS Magical Surprises
The Ice Cream Sundaes video was featured in the VHS Oooh!
Dipsy is the missing teletubby
Laa Laa is the boo shouter.
Watch