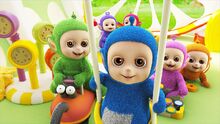 The voice trumpet leads a game of I Spy where the Teletubbies have to spot different colours - purple, green, yellow and red. What or who can they spot with those colours? The game finishes with the Tiddlytubbies song.
Trivia
This episode aired in the UK on 26th May 2017.
Po was the missing teletubby
Dipsy was the boo shouter but Po said goodbye for a final time.
Ad blocker interference detected!
Wikia is a free-to-use site that makes money from advertising. We have a modified experience for viewers using ad blockers

Wikia is not accessible if you've made further modifications. Remove the custom ad blocker rule(s) and the page will load as expected.