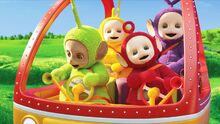 The Teletubbies hear a 'honk' noise in the distance and the Tubby Car approaches. It drives the Teletubbies across Teletubbyland as they sing the Tubby Car song.
Trivia
This is the fifth episode of the second series of the reboot
This is the sixty-fifth episode of the revamp
This is the first appearance of the Tubby Car.
This episode aired in the UK on 17 March 2017
Laa Laa was both the missing teletubby and the boo shouter but Po said goodbye for a final time.