Hiding

Number

371

Air Date

16 November 2015

Director

Jack Jameson

Previous

Next
Tinky Winky, Dipsy, Laa-Laa and Po live and play together in Teletubbyland. Tinky Winky keeps standing in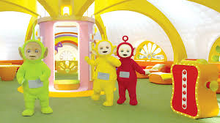 the way when Laa-Laa is trying to look at the flowers, but Laa-Laa likes looking at Tinky Winky just as much as she likes looking at flowers! The Teletubbies watch a Tummy Tale in which children play hide and seek.
Trivia
This is the sixth episode of the new series
Laa Laa was the missing teletubby
Dipsy was the boo shouter but Laa Laa said goodbye for a final time.
This episode resembles the classic series episode Hide and Seek.
This episode aired in the US on June 1, 2016.