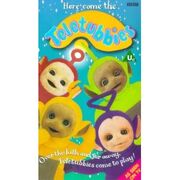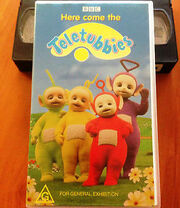 Here Come the Teletubbies

Number

1

Directors

Vic Finch

David G Hillier

Next
Here Come the Teletubbies was released in 1997 (1998 in the USA). It was the first volume VHS. It was later released on DVD as Meet The Teletubbies(UK DVD version, US DVD version still had original title)
Chapters/Segments
Four Happy Teletubbies (From Jumping & Making Lanterns)
Time for Tubby Toast (From Ned's Bicycle)
Mind the Puddle (From Playing in the Rain)
Tinky Winky's Heavy Bag (From Delilah Packing)
Po's Falling Down Day (From Humpty Dumpty) (Cut From US Version)
Who Spilled the Tubby Custard? (From Painting with Hands and Feet)
Laa-Laa's Watering Can (From Making Flowers)
Tubby Toast Accident (From Feeding the Chickens)(in the US the windmill freezes)
The Beach (Moved to before tubby toast accident in US version)
Where's My Hat? (From The Beach) (Cut from US Version)
Special Features for US Version
Noo-Noo stretches Po's blanket

Featuring: Thomas & Jonathan Becker, Natasha Marshall, Zoe Robinson and the Children of Jordan's Village Nursery School, Beaconsfield
Trivia
The rare Original Window Windmill clip was shown when the Teletubbies were about to eat Tubby Toast before they watched Playing in the Rain at the TV Receiver Sequence. It might be ironic how a rare Windmill clip be shown in a VHS volume, making it not so rare.
In the US version the bird's eye Windmill animation sequence is seen before the beach TV receiver sequence.
Another rare Magic Windmill clip was shown in the UK version after the Tubby Toast Accident but before the TV Receiver Sequence. It was when the Windmill was shown in its Normal animation with window, but was making the Stop Spinning sound. Ironically, in the US version, the TV Reciever Sequence was shown BEFORE the tubby toast accident, and the rare Windmill animation was used then stopped, thus following the Tubby Bye Bye event.
Po was both the boo shouter and the missing teletubby.
Before the Beach TV event, the Magic Windmill spins with the stops spinning tune.
Goofs
The 2004 US VHS had Dash and Dot on the front and back cover of the tape, however it both opens and closes with the PBS Kids Dash logo with Dot Audio.
On the Norwegian cover, it features an image from Missing Favourite Things (from Josies Pots and Favourite Things) on VHS and DVD, but that scene wasn't on this release, and what's more, the Windmill is also mirrored on the same cover.
Watch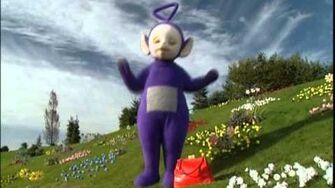 Cover Gallery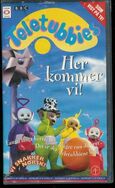 Ad blocker interference detected!
Wikia is a free-to-use site that makes money from advertising. We have a modified experience for viewers using ad blockers

Wikia is not accessible if you've made further modifications. Remove the custom ad blocker rule(s) and the page will load as expected.