Tinky-Winky was having fun with the controllers when the windmill was spinning he went outside to fetch Dipsy, Laa-L
aa and Po. Then they watched a girl and her mom playing with a harp twice. After the clip Tinky-Winky discovered a harp in Teletubby Land then Po came by and decided to use the harp then the harp disappeared. Then it was time for Tubby Bye-Bye. 
Featuring: Eleanor Hudson and R'varne Naji
Trivia
Dipsy was the missing Teletubby
Tinky Winky was the boo shouter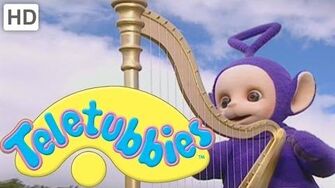 Ad blocker interference detected!
Wikia is a free-to-use site that makes money from advertising. We have a modified experience for viewers using ad blockers

Wikia is not accessible if you've made further modifications. Remove the custom ad blocker rule(s) and the page will load as expected.