Hanging Out the Washing

Number

362

Air Date

No information

Director

Vic Finch

Previous

Next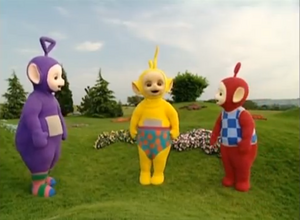 Noo Noo is tidying up when Laa Laa comes down the slide and falls over. Then the Magic Windmill spins and the Teletubbies watch children hanging out their washing. Tinky-Winky, Laa-Laa and Po are out walking together when a clothes line appears. There are clothes hanging from the line. Tinky Winky wears the socks, Po wears the vest and Laa-Laa wears the pants. The Teletubbies love wearing clothes. They show the clothes to Dipsy and he thinks they're very lovely. The Teletubbies do the Rocking Dance before Tubby Bye-Bye.
Featuring: Madeleine Jeapes and Sophia Scale
Trivia
This is the last episode to have the Rocking Dance, as well as being the last episode where the Teletubbies dance.
This is the last episode where something appears from far away.
Laa Laa was the boo shouter.
Tinky Winky was the missing teletubby.
Goofs
When the windmill spins for the TV Event, the Normal Animation without the window is shown even though Laa-Laa is indoors. This is one of the two times the Normal Animation is shown without the window indoors - the other time being Ten Little Men Finger Play.
Watch