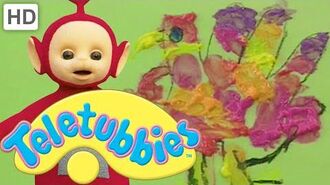 Tinky-Winky spills his Tubby Custard and then Noo-Noo tidies up. Then the Teletubbies watch a little girl paint a turkey using her hand. Then a voice trumpet says a joke called Gobble Gobble Wobble Wobble for Laa-Laa which she finds very funny, she tells the Joke to Po and she finds it very funny as well, then they run off to watch the Animal Parade. The Teletubbies do the Stamping and Stepping Dance before "Tubby Bye-Bye".
Featuring: Cathy Davison
Trivia
Dipsy was the missing teletubby
Po was the boo shouter
Ad blocker interference detected!
Wikia is a free-to-use site that makes money from advertising. We have a modified experience for viewers using ad blockers

Wikia is not accessible if you've made further modifications. Remove the custom ad blocker rule(s) and the page will load as expected.