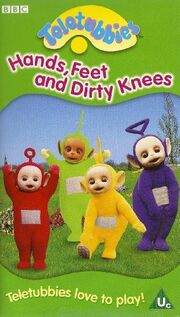 Teletubbies Hands, Feet and Dirty Knees is a Teletubbies video about using your Hands, Feet and getting your Knees dirty. Released in 2000 by BBC and Ragdoll Productions. It is not quite as popular as many of the other videos, and therefore, it is somewhat rare.
Featuring: Cathy Davison and Ayende & Yusef Ali, Lorenzo Black, Foluke Cole, Malcolm & Ashleigh Sawyers and Thomas Wilson and The Children of The Heidi Rhodes School of Dance
Includes
Trivia
The Magic Windmill stops spinning on-screen after the Dirty Knees segment, meaning that the Stop Spinning sound wasn't heard when the Teletubbies see the windmill.
The ending to the Noisy Foot Steps Day where it's time for Tubby Toast is cut for some reason.
Po was the missing teletubby
Dipsy was the boo shouter

51:49

Teletubbies - Hands, Feet and Dirty Knees
Ad blocker interference detected!
Wikia is a free-to-use site that makes money from advertising. We have a modified experience for viewers using ad blockers

Wikia is not accessible if you've made further modifications. Remove the custom ad blocker rule(s) and the page will load as expected.