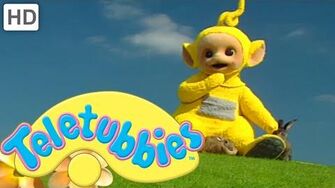 The
Teletubbies
watch some children have fun playing a guessing game, then a book appears in
Teletubbyland
, and
Laa-Laa
loves to count the rabbits before
Tubby Bye-Bye
.
Featuring: Chantal and Roxanne Blanning, Cassius Matthews
Plot (US Version)
The Teletubbies slide down the slide to have some Tubby Toast. Then the Magic Windmill starts spinning and the Teletubbies run outside and they watch some children have fun playing a guessing game, Back in the Home Hill, Tinky Winky, Dipsy and Laa Laa bring their favorite things at the table, except Po, it was time for Tubby Toast. As they had Tubby Toast, The Noo Noo came to the table very loudly. The Teletubbies told him to be quiet. Suddenly, the Noo Noo tidies up Laa Laa's ball, then Dipsy's hat, lastly Tinky Winky's bag. Oh, naughty noo noo. The Teletubbies chase him around the Home Hill saying "Naughty Noo Noo", then they couldn't catch the noo noo. One last chase, then Po gets her scooter. When she runs outside, the trio sits back at their table. Po goes back in riding her scooter, she chases the Noo Noo faster. Then the Noo Noo returns Tinky Winky his bag, Dipsy his hat, and finally Laa Laa her ball. The trio are very happy to have their favorite things back. Clever Noo Noo then the Teletubbies chase the Noo Noo before they hug him again. Then the windmill started to spin as they run to watch the Magic House with a Singing Puppet man performing in the Bottom Left Window. Then it is time for The Stamping and Stepping Dance and it's time for Tubby Bye Bye.
Trivia
Dave Thompson was not credited in this episode (Also in Numbers 4 Version 1)
This is the first episode to use a new costume design of Laa Laa.
The US Version has The Magic House (Bottom Left Window) Sketch. The Stamping and Stepping Dance (Extended) was also added.
The UK Version has no Magical Event and Dance.
Po was the boo shouter in UK Version. Tinky Winky was the boo shouter in US Version.
In the US Version, after the Stamping and Stepping Dance, the camera cuts to the scene where the voice trumpet rises up for Tubby Bye-Bye.
Laa Laa was the missing teletubby in UK Version. Dipsy was the missing teletubby in US Version.