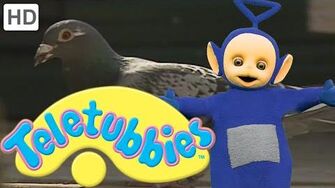 The
Teletubbies
make raspberry noises before watching a little boy called Connor with his grandfather's pigeons. The Teletubbies come out of their house and they bumped into each other before going out to play across
Teletubbyland
. The Teletubbies then went home again and went out to play again. The Teletubbies went home again and they come out of their home yet again. Teletubbies love each other very much.
Featuring: Connor and George Morris
Trivia
Laa Laa was the 'boo' shouter
Tinky Winky was the missing Teletubby
Ad blocker interference detected!
Wikia is a free-to-use site that makes money from advertising. We have a modified experience for viewers using ad blockers

Wikia is not accessible if you've made further modifications. Remove the custom ad blocker rule(s) and the page will load as expected.