Synopsis
The Teletubbies join in a game when a Voice Trumpet sings "The Grand Old Duke of York". The magic windmill brings a musical transmission featuring King Pleasure and the Biscuit Boys. After watching the performance, the Teletubbies do the stamping and stepping dance. A drum appears in Teletubbyland shortly afterwards. Po beats the drum, causing strange things to occur. After the special drum disappears, the magic windmill starts spinning. The Teletubbies watch a Puppet Man singing inside his house. After the house disappears, the Magic Windmill stops spinning and the Teletubbies wave goodbye.
Featuring: King Pleasure & The Biscuit Boys, The Pupils of Chuckery Infants School, Walsall
Trivia
Po was the boo shouter.
Dipsy was the missing Teletubby
In this episode, Po receives the transmission.
This episode marks the first appearance of King Pleasure and The Biscuit Boys.
This is the first episode to feature the Singing Man in the Pink House.
This is the first episode to feature a Voice Trumpet segment, not counting the intro or Tubby Bye-Bye.
This the very first episode to include the Field 2 Opening Shot. Also, a ditty sound can be heard.
This marks the first appearance of the Magic House.
Watch Episode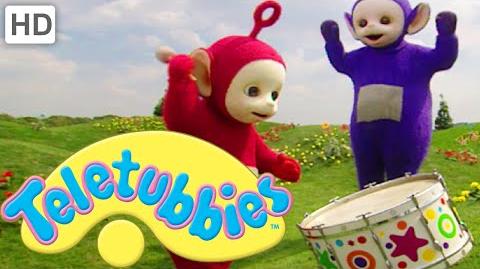 Ad blocker interference detected!
Wikia is a free-to-use site that makes money from advertising. We have a modified experience for viewers using ad blockers

Wikia is not accessible if you've made further modifications. Remove the custom ad blocker rule(s) and the page will load as expected.