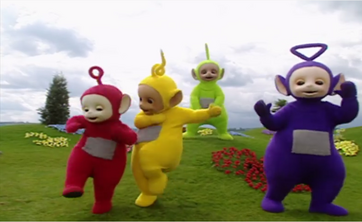 The windmill spins while the
Teletubbies
are eating
Tubby Toast.
So they quickly finish it then run off to watch Alex Pascall and some children going for a walk and singing 'Good Morning' to everyone that they meet. Dipsy decides to dance. Laa-Laa wants Dipsy to play ball with her, Tinky Winky wants him to play marching with him and Po wants him to play rolling with her. But Dipsy wants to dance. They all watch the
Dancing Bear
before
Tubby Bye Bye
.
Featuring: Alex Pascall
With the participation of Maria Cook, Adrian Davis, Tyrone Francis, Jade Hazel, John Howe, C.A. Johnson Josh Kellerman, Jee Su Kim, Laurence Lundgren, Keith More, Bethanie Sadler and Kyle Watson
Watch Episode
Trivia
Po is the missing teletubby
Tinky Winky was the boo shouter.