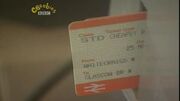 The Teletubbies slide down the slide couple times before the windmill spins and the Teletubbies run off to watch a video about a train ride. Po chases her scooter all over Teletubbyland but has a squeaky wheel.
Featuring: Diko Blacklings, Jacqui and Eric Tombere, Hennie Van Der Berg and John Whitehill
Plot (US Version)
The Teletubbies slide down the slide and have some Tubby Toast. Then the Magic Windmill spins, and the Teletubbies run outside to watch a video about a train ride. Then the Teletubbies put their favorite things to the table as it's time for Tubby Toast. When they eat their Tubby Toast, the Noo Noo tidies up Laa Laa's ball, Dipsy's hat and Tinky Winky's bag, except Po's scooter. Naughty Noo Noo! He tidied up 3 favorite things. The Teletubbies chase the Noo Noo as fast as they can. Po decides to chase the Noo Noo with her scooter. Then the Noo Noo immediately returns the bag to Tinky Winky, a hat to Dipsy, and a ball for Laa Laa. All the Teletubbies are very happy, that Teletubbies chase the Noo Noo once more, they hug him and the windmill begins to spin and the Teletubbies run out to watch The Magic House with the Singing Man singing in the bottom left Window. Then the windmill stops spinning, the camera fades to opening shot Home Hill 1, and Then the Teletubbies does the Twisty Dance before Tubby Bye Bye.
Trivia
This is the last episode of the Season 3.
Laa Laa was the boo shouter in UK Version. Po was the boo shouter in US Version.
The US version has the Magic House and the Twisty Dance.
The Portuguese version has a different segment after the transmission event, then the Tap dancing Teddy bear dances once before the Magic Windmill stops spinning
Ad blocker interference detected!
Wikia is a free-to-use site that makes money from advertising. We have a modified experience for viewers using ad blockers

Wikia is not accessible if you've made further modifications. Remove the custom ad blocker rule(s) and the page will load as expected.