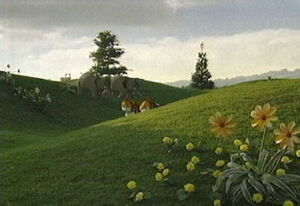 Inside the house, the Teletubbies crawl through the arch one by one. Then they watch some children going for a long walk. Laa-Laa decides to go for a happy walk. Tinky Winky and Dipsy decide to go too, but Laa-Laa doesn't know that. When Laa-Laa decides to do a happy dance, she finds Tinky Winky and Dipsy dancing with her. Po arrives on her scooter and decides to dance with them. What a happy day! The Teletubbies rush off to watch The Animal Parade. Then they do the Stamping and Stepping Dance before Tubby-Bye-Bye.
Featuring: Bethany Arnold, Jasmine Edmonds, Chloe Guy, Jeremy Harris and Florence Simms
Trivia
The Going for a Walk video was featured in the VHS Busy Day.
Dipsy was the boo shouter.
Tinky Winky was the missing teletubby.
Watch