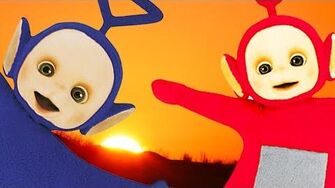 Getting Up in the Morning

Number

290

Air Date

No information

Director

Paul Gawith

Previous

Next
The Teletubbies are sitting at the table when two Voice Trumpets rise and say Good Morning then the Magic Windmill spins and the Teletubbies watch some children getting up in the morning and The Teletubbies watch
The Singing Man in the Pink House
before the Teletubbies do a twisty dance and then it is time for "Tubby Bye-Bye."
The Baby Sun
then sets.
Featuring: Frances and Fiona Bennell
Trivia
Tinky Winky was the 'boo' shouter.
This was the last episode where the puppet sings on the Top Right Window.
Laa Laa was the missing teletubby
During the "Good Morning" segment, the Voice Trumpet on the right (the one that pops up first) changes design between far shots and close up shots.