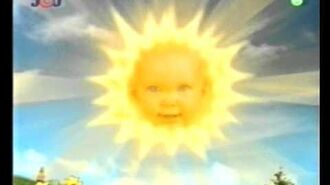 Po rides her scooter before the Magic Windmill spins. Then the Teletubbies watch Andy Brown and the children go in search of fox cubs. Meanwhile, sleep seems to be on the agenda for Tinky Winky, Dipsy, Laa-Laa and Po, so it's up to the Voice Trumpets to wake them up.
Featuring: Ivo and India Hayes
Trivia
The second segment was used on the VHS tape Bedtime (Bedtime Stories and Lullabies in the US).
Tinky Winky was the missing teletubby
Laa Laa was the boo shouter

26:02

★Teletubbies English Episodes★ Fox Cubs ★ Full Episode - HD (S11E19)
Ad blocker interference detected!
Wikia is a free-to-use site that makes money from advertising. We have a modified experience for viewers using ad blockers

Wikia is not accessible if you've made further modifications. Remove the custom ad blocker rule(s) and the page will load as expected.