This article is about the reboot episode. You may be looking for the dance from the original series.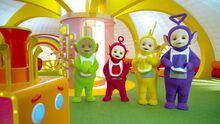 The Teletubbies play choo-choo and follow the Tubby Custard Machine on a Tubby Custard Ride. In Tummy Tales, children follow their nursery teacher to the local playground.
Trivia
This is the thirty-eighth episode of the series
Laa Laa was the missing teletubby
Po was the boo shouter
This is the second time that the Tubby Custard Train going outside. The first being Custard Chaos.
Ad blocker interference detected!
Wikia is a free-to-use site that makes money from advertising. We have a modified experience for viewers using ad blockers

Wikia is not accessible if you've made further modifications. Remove the custom ad blocker rule(s) and the page will load as expected.