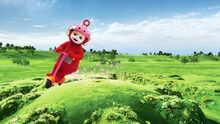 Flying

Number

393

Air Date

03 February 2016

Director

Jack Jameson

Previous

Next
The Teletubbies pretend to fly. The children in Tummy Tales watch swans flying. Po goes so fast on the scooter that it takes off and flies over Teletubbyland!
Trivia
This is the twenty-eighth episode of the new series
Po was the missing teletubby
Laa-Laa was the boo shouter but Dipsy said goodbye for a final time
This episode aired in the US on June 29, 2016.
Ad blocker interference detected!
Wikia is a free-to-use site that makes money from advertising. We have a modified experience for viewers using ad blockers

Wikia is not accessible if you've made further modifications. Remove the custom ad blocker rule(s) and the page will load as expected.