Favourite Things

Number

369

Air Date

12 November 2015

Director

Jack Jameson

Previous

Next
Tinky Winky, Dipsy, Laa-Laa and Po live and play together in Teletubbyland. Tinky Winky, Dipsy and Po have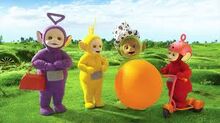 their favourite toys to play with, but Laa-Laa doesn't have the ball. The others help her find it. The Teletubbies watch a Tummy Tale about a boy and his favourite thing - a bike.
Trivia
This is the fourth episode of the 2015 series
Tinky Winky was the missing teletubby
Dipsy was the boo shouter but Tinky Winky said goodbye for a final time
This episode aired in the US on May 31, 2016.
The Teletubbyland story is a remake of the story from Josie's Pots but they only had to look for Laa-Laa's ball.