Eric Sykes was a British radio, television and film writer, actor and director whose performing career spanned more than 50 years. He frequently wrote for and/or performed with many other leading comedy performers and writers of the period, including Tony Hancock, Spike Milligan, Tommy Cooper, Peter Sellers, John Antrobus and Johnny Speight. He became a TV star in his own right in the early 1960s when he appeared with Hattie Jacques in several popular BBC comedy television series.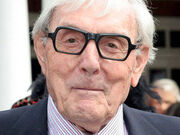 He is more known to Teletubbies fans as being the counting voice in the Teletubbies intro and most of all for being the voice of The Scary Lion in The Lion and Bear Magic Event which caused a lot of controversy due it being too scary for young children. Eric Sykes portrayal of the character was quite unsettling for young children, he gave the Lion a deep rough voice and an extremely scary roar, however when the Segment was redone he slightly toned down the voice, while still sounding a little bit creepy he also sounded more joyful.
Sadly, Eric Sykes passed away in July 2012 at age 89 after a short illness
Ad blocker interference detected!
Wikia is a free-to-use site that makes money from advertising. We have a modified experience for viewers using ad blockers

Wikia is not accessible if you've made further modifications. Remove the custom ad blocker rule(s) and the page will load as expected.