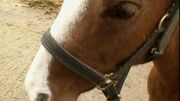 Laa-Laa has fun wearing Dipsy's hat. The Teletubbies watch Emily washing her pony, Jester. The Teletubbies wash themselves with their Tubby Sponges. A Voice Trumpet tells them to wash their hands, elbows, knees, feet and their tummies. The Teletubbies are all clean and the Magic Windmill spins for Tubby Bye-Bye.
Featuring: Nicole and Emily Kingman
Trivia
The Tubby Sponges segment was featured in the VHS Busy Day.
Laa Laa was the boo shouter.
Po was the missing teletubby.
Gallery
Watch