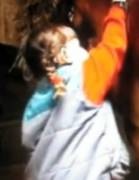 Emily Kingman (born 1993) is a character from Teletubbies. She loves to take care of her pony Jester. She only appears in TV Events. Like the other TV Events characters, she loves the Teletubbies.
Apperances
Trivia
At the time of her appearances, she was several years old.
In the TV Series, Emily Kingham made three episode appearances.