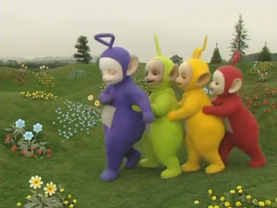 Eh-Oh! 2 is a segment in Teletubbies. It first appeared in the episode, Painting With Hands and Feet.
Plot
The Teletubbies are dancing in a conga line while bongos, flutes, and other woodwind instruments play a tropical tune of Teletubbies. While the Teletubbies dance in a conga line, they're singing the Teletubbies tune (they're actually singing the ditty of "Say, hello!"). The Teletubbies say "Eh-Oh!" to the audience while dancing. Moments later, they leave.
It turns out the Teletubbies were still dancing in a conga line, as they turned around and start over. This time, the xylophone comes in and the tune plays in a different pitch. The Teletubbies sing to the key, and they laugh as all of them are gone. 
The Teletubbies say, "Eh-Oh!" up close. But they hear the Magic Windmill spinning. They say, "Uh Oh!" and leave for the TV Receiver sequence.
Trivia
The Opening Shot of this segment has a different tune. Instead of the tune with the extended opening and the bells chiming in a different key, the tune plays the bells chiming in the beginning.
In Snails, the Voice Trumpet rises for Tubby Bye-Bye instead of the Windmill spinning.
Ad blocker interference detected!
Wikia is a free-to-use site that makes money from advertising. We have a modified experience for viewers using ad blockers

Wikia is not accessible if you've made further modifications. Remove the custom ad blocker rule(s) and the page will load as expected.