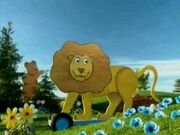 The Teletubbies eat Tubby Toast and the Tubby Toaster makes one extra. All of the Teletubbies want it but the Noo-Noo tidies it up.The Teleubbies watch some children take their dog for a walk. The dog gets dirty so they give the dog a bath. The Teletubbies do the Splashing Dance before watching the Lion and Bear play hide and seek in Teletubbyland. The Magic Windmill starts spinning, the Teletubbies say 'Uh-Oh', then the Magic Windmill stops spinning and it's time for Tubby Bye-Bye.

Featuring: Jamie Gilchrist and Emily Hills
Trivia
This is the first episode that has no new footage. This also happens in Paddling Pool and The Pier. The opening segment is just footage from Ned's Bicycle and Yellow Cow put together.
This is the first Lion and Bear episode that has the Splashing Dance. The other episode is Paddling Pool.
This is the first episode where the Teletubbies giggle during the Splashing Dance.
When the Magical event windmill animation is showing, the Magical Event theme is playing over the scary music. This also occurred in Long Horns.
Tinky Winky was the boo shouter.
Po was the missing teletubby.
This is the first episode where the opening shot plays a music in a low key (D major) after the TV Receiver Event. This also occurs Irish Dancing, Ice Cream Sundae and Lets Dance!
Watch