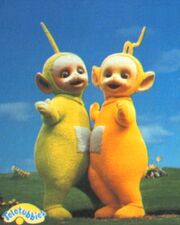 DipsyXLaa-Laa is the romantic pairing between 
Dipsy
 and 
Laa-Laa
.
Episode Hints
When the windmill picks Laa-Laa, Dipsy puts his arm around her as he, Tinky-Winky, and Po watch a TV Event in her tummy.
At the beginning of the TV Event segment, when the Teletubbies have a Big Hug, Laa-Laa puts her hand over Dipsy's hand.
In some magical events, Dipsy and Laa-Laa sit next to each other.
In some segments, Dipsy and Laa-Laa can be the only ones seen together and they give Big Hugs to each other.
In the theme song, Laa-Laa comes next right after Dipsy. After the windmill spins, they run away together.
When the Teletubbbies are split into groups, Dipsy and Laa-Laa are usually paired off.
Dance Hints
In the Running Away Dance, they were running away and dancing together.
In the Splashing dance, they were swinging each other round and round in the puddle.
In the Bumps-a-Daisy Dance, Dipsy and Laa were bumping their bottoms and their tummies.
Votes
Whats YOUR opinion on DipsyXLaa-Laa?