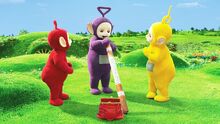 Tinky Winky learns to play the didgeridoo. In Tummy Tales, children make and play with didgeridoos. The Teletubbies do a special didgeridoo Tubby Phone Dance. Tiddlytubby Ping loves the didgeridoo too.
Trivia
Instead of appearing from far away, the didgeridoo appears from Tinky Winky's bag.
This is the first episode where a Teletubby talks back at the Narrator. After the Narrator mentions the didgeridoo, Tinky Winky says 'Pardon?' to him and he repeats himself.
This episode aired in the UK on 27 March 2017
Tinky Winky was the missing teletubby
Po was the boo shouter but Dipsy said goodbye for a final time.
Ad blocker interference detected!
Wikia is a free-to-use site that makes money from advertising. We have a modified experience for viewers using ad blockers

Wikia is not accessible if you've made further modifications. Remove the custom ad blocker rule(s) and the page will load as expected.