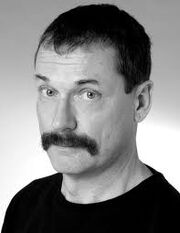 Dave Thompson is a British actor and stand up comedian. He was known for originally portraying Tinky Winky. After 70 episodes he was sacked from the role as he received a letter from the BBC stating that his 'interpretation of the role was not acceptable'. He was then replaced by Simon Shelton, though his name is still shown in the credits. Most of Dave Thompson's clips were shown in episodes more than Simon Shelton's clips as Thompson is shown in the intro, T.V events, Magical Events (except Little Bo Peep, and Simon Shelton dubbed Tinky Winky in the edited version of the Lion and Bear), some of the dances and Tubby Bye-Bye.
According to a BBC Radio 4 Interview from April 2015. It turns out that Dave Thompson was only the performer in the suit and his voice was never used. Thompson actually had a completely different voice for Tinky Winky that sounded quite high pitched and almost child-like. So for the 70 episodes where Thompson performed in the suit, Tinky Winky's voice was dubbed by Mark Heenehan until Simon Shelton took over the role.
Ad blocker interference detected!
Wikia is a free-to-use site that makes money from advertising. We have a modified experience for viewers using ad blockers

Wikia is not accessible if you've made further modifications. Remove the custom ad blocker rule(s) and the page will load as expected.