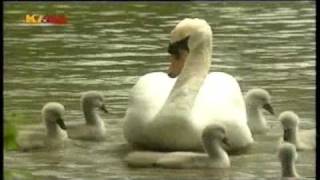 Po rides her scooter around some flowers before the Teletubbies watch Andy Brown and some children visit some cygnets. In Teletubbyland, it is time for bed. But Po is not tired and doesn't want to go to sleep yet, so she rides her scooter. Then, it's time for Tubby Toast, but Po feels too tired to eat her piece of toast, so she ends up falling asleep. The Teletubbies wake her up when the Magic Windmill spins for Tubby Bye-Bye.
Featuring: Andy Brown with Sophie Easton and Ryan McKechnie
Watch Episode
Trivia
This episode re-uses the opening segment from My Mum's a Doctor. The only difference is the opening shot.
The Cygnets video was featured in the VHS Animals Big and Small
The Po doesn't want to go to bed segment was featured in the VHS Bedtime.
Laa Laa was the missing Teletubby.
Po was the boo shouter.