Colours - Green
Talk

0
1,076pages on
this wiki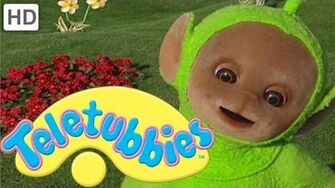 Inside the House the Teletubbies listen to a Voice Trumpet make a "MOOOOOOO" Noise which they find very funny. Then they watch a video about the Colour green. Laa Laa loves the Green Grass. Po loves the Green Trees. Tinky Winky loves the Green House and the Teletubbies love Green Dipsy. The Teletubbies do the Round and Round Dance before Tubby Bye Bye
Plot (US Version)
Inside the House the Teletubbies listen to a Voice Trumpet make a "MOOOOOOO" Noise which they find very funny. Then they watch a video about the Colour green. Laa Laa loves the Green Grass. Po loves the Green Trees. Tinky Winky loves the Green House and the Teletubbies love Green Dipsy. The Teletubbies do The Follow The Leader Dance inside the Home Hill before Tubby Bye-Bye.
Trivia
Laa-Laa was the 'boo' shouter in UK Version. Dipsy was the boo shouter in US Version.
The US Version has the Follow The Leader Dance.
Dipsy was the missing teletubby in UK and US Version.