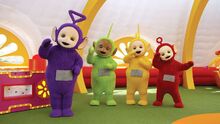 The Teletubbies accidentally leave the Tiddlytubbies' gate open, and some of them (Mi-Mi, Daa Daa and Baa) escape into Home Dome! The Teletubbies must find them all and then close the gate. In Tummy Tales, a boy is helped to close the gate after sheep
Trivia
This is the first episode of Season 2 of the reboot.
This is the sixty-first episode of the reboot.
This episode aired in the UK on 13 March, 2017.
This is the first ever episode directed by Dermot Canterbury.
Laa Laa is both the missing Teletubby and the boo shouter but Tinky Winky said goodbye for a final time.
This episode marks the first appearance of the Tiddlytubbies Song.
Ad blocker interference detected!
Wikia is a free-to-use site that makes money from advertising. We have a modified experience for viewers using ad blockers

Wikia is not accessible if you've made further modifications. Remove the custom ad blocker rule(s) and the page will load as expected.