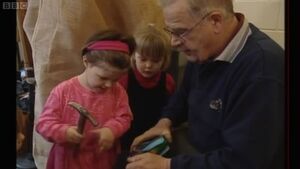 Tinky Winky walks down the path when a voice trumpet rises and plays some piano music. Tinky Wnky tries to walk along to the music but the music keeps going wrong. The Teletubbies watch some children learn how to make clogs. Laa-Laa goes for a walk, but outside it is raining. So she goes for a walk indoors instead. She asks Dipsy if he wants to walk indoors too. But Dipsy wants to have a rest. After Laa-Laa walks indoors, she has a rest. The Noo-Noo zooms around the house before the windmill starts spinning. The Teletubbies watch the Dancing Bear before Tubby Bye Bye.
Featuring: Gordon Rush with Paige & Devon Gibson, Rosaleen Howorth and Jake Rigby
Trivia
Tinky Winky was the boo shouter.
Po was the missing teletubby.
Watch