Circles

Number

271

Air Date

No information

Director

Vic Finch

Previous

Next
The Teletubbies have fun running around the House before watching some children painting circles. Tinky-Winky and
Dipsy
make Tubby Custard and
Noo Noo
tidies up Dipsy's custard. They chase him with
Tinky-Winky
 holds his tubby custard. Be careful, Tinky-Winky. Don't spill your tubby custard. While they chase the Noo Noo, Tinky Winky spills his Tubby Custard all over the floor and then the Noo Noo tidies up. Clever Noo Noo. They chase him again for a big hug. Then the Teletubbies do
the Round and Round Dance
before Tubby Bye Bye.
Featuring: Arjun Kandola, Alex Garstang, Lydia Ashfield and Evangeline Fish
Trivia
The US version of this episode has the Dancing Bear which caused the Circles video to be played once
Dipsy was the boo shouter.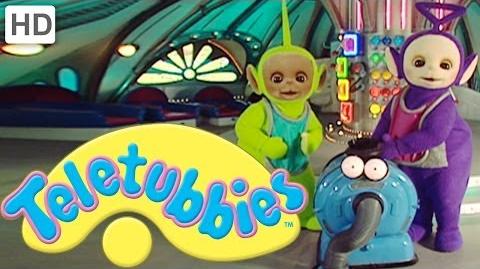 Po was the missing teletubby.
Ad blocker interference detected!
Wikia is a free-to-use site that makes money from advertising. We have a modified experience for viewers using ad blockers

Wikia is not accessible if you've made further modifications. Remove the custom ad blocker rule(s) and the page will load as expected.